2021 3rd International Conference on Geoscience and Environmental Chemistry (ICGEC 2021) will be held on June 18-20, 2021 in Xining, China. The primary goal of the symposium is to promote research and developmental activities in geoscience and environmental chemistry, and another goal is to promote scientific information interchange between researchers, developers, engineers, students, and practitioners working all around the world. An ideal platform for seeking global partners had been established. We sincerely invited you to attend the forum to share views and experiences in geoscience, environmental chemistry and related areas.
The previous forum, ICGEC 2019 have successfully taken place on September 20-22, 2019 in Dalian, China.
The previous forum, ICGEC 2020 have successfully taken place on October 9-11, 2020 in Tianjin, China.

All the accepted papers have been indexed by EI Compendex and Scopus. 2019 & 2020 Index Record: EI Compendex | Scopus

Contribute to Conference Proceedings


Papers submitted to ICGEC 2021 be reviewed by technical committees of the conference. All accepted full papers will be published on E3S Web of Conferences (ISSN:2267-1242) and will be submitted to EI Compendex, Scopus and Inspec for indexing.

Call for Excellent Papers to SCI Journal!(Submission with notes of "L162" will enjoy priority in review and acceptance.)
Journal1:Open Geosciences ( ISSN:2391-5447 , IF=0.985 )

Journal2:Environmental Geotechnics ( ISSN:2051-803X , IF=1.621 )

Journal3:Geofluids ( ISSN:1468-8115 , IF=1.009 )
Note:All submissions of SCI papers must be in WORD (.doc) format and there are no specific typesetting requirements. After review, a template will be given for typesetting.

Submission Methods
1.The submitted papers must not be under consideration elsewhere.
2.Please send the full paper(word+pdf) to SUBMISSION SYSTEM
3.Please submit the full paper, if presentation and publication are both needed.
4.Please submit the abstract only, if you just want to make presentations.
5.Templates Download: Templates
6.Should you have any questions, or you need any materials in English, please contact us at IC_GEC@163.com
Note:
1)Both Abstract and Full Paper are welcomed. The author can make an oral presentation after the Abstract is accepted and the payment is finished.
2)All submitted articles should report original, previously unpublished research results, experimental or theoretical. Articles submitted to the conference should meet these criteria and must not be under consideration for publication elsewhere. We firmly believe that ethical conduct is the most essential virtual of any academic. Hence any act of plagiarism is a totally unacceptable academic misconduct and cannot be tolerated.

Host | 主办单位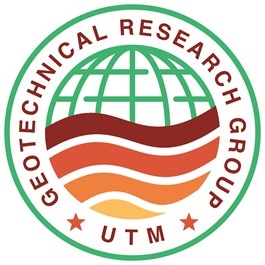 Geotechnical Research Group (GRG), School of Civil Engineering, Universiti Teknologi Malaysia
Organizer | 承办单位

AEIC Academic Exchange Information Center